Frequently Asked Questions
Frequently asked questions about Scotwest Credit Union:
Who can join Scotwest Credit Union?
You can apply to become a member if you live or work within the West of Scotland* Stirling, Perth & Kinross, Dumfries & Galloway or the Scottish Highlands, work for one of our named employers or are a Young Scot Card Holder.
*West of Scotland includes: Argyll & Bute, East Ayrshire, East Dunbartonshire, East Renfrewshire, Glasgow, Inverclyde, North Ayrshire, North Lanarkshire, Renfrewshire, South Ayrshire, South Lanarkshire and West Dunbartonshire.
Why a member and not a customer?
As a financial co-operative, you must be a member to use our services. Every member has an equal say in the matters affecting Scotwest; the ability to vote at General Meetings and stand for election to the Board of Directors.
Is it free to join?
Yes. All you have to do is deposit at least £1 in your Scotwest Saver Account.
How do I save with Scotwest?
You can save with Scotwest in a number of ways. The simplest way is to set up regular savings either through payroll deduction or Direct Debit. You can also deposit money into your savings account using your debit card or by electronic bank transfer.
How much interest do you pay on savings?
We pay a forecasted quarterly dividend rather than a fixed rate of interest. This is determined on an on-going basis by the Scotwest Board of Directors. You can find out more about our current dividend rates here.
Is my money protected?
Yes. Like banks and building societies, your savings are protected by the Financial Services Compensation Scheme, currently up to £85,000 per person.
Can I access my accounts online?
Yes. Members can access their accounts, transfer funds, apply for loans or open new accounts online. You can also download our mobile app for simple account upkeep on the go.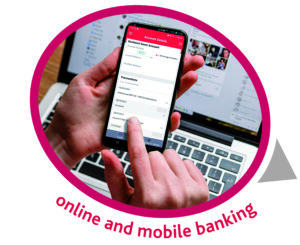 Why am I having difficulty depositing money into my account online?
You may need to turn your browser's pop up blocker off to get access to the World Pay site to deposit your funds. You can find out more about pop up blockers here.
When can I access my savings?
You do not need to give any notice to access your savings, however it will take two working days for your funds to arrive in your nominated bank account.
When can I borrow from Scotwest?
Members can apply to borrow from us at any time – we do not place restrictions on when a member can borrow from us, or expect them to have a certain amount in savings before doing so.
How much can I borrow?
We currently offer unsecured loans up to a maximum of £30,000.
Do you use credit reference agencies?
Yes, but we do not make automatic lending decisions based on these findings. All loan applications are assessed on the ability to repay.