Scotwest Directors Charity Awards
The Directors of Scotwest Credit Union are delighted to announce the annual Scotwest Directors Charity Award.
The award gives the Directors an opportunity to directly support Scotwest Members and their communities across the west of Scotland by offering £5000 to a charity chosen by one member who has been selected at random.
The chosen charity will be ratified by the Board at the next Board Meeting before being announced. In the event that there is disagreement with the choice of charity (eg. the organisation has previously been in receipt of a Directors' Charity Award) the member will be asked to choose again. Every member who meets the criteria (see rules below) will be automatically included in the draw each year, however, if any member does not wish to take part they can ask to be removed from the draw at any time.
The first winner of the award is RAMH (Recovery Across Mental Health) who promote recovery from mental ill health and empower people to build independent lives, providing support to sufferers and their friends and family.
Catherine Graham, the member who nominated RAMH said "I am delighted to have been chosen to nominate the first Scotwest Directors' Charity Award and a charity doing such great work within mental health support was an obvious choice.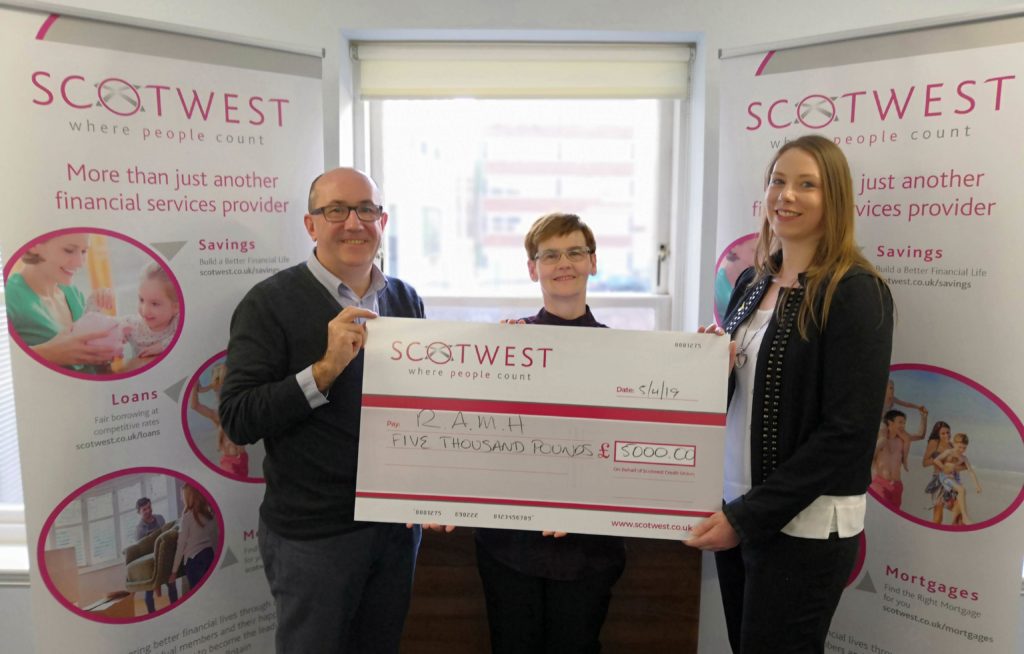 Find out how you can help shape the development and continued success of your credit union by becoming a member of the Scotwest Board here.
Scotwest Directors Charity Award Winners
| | | |
| --- | --- | --- |
| Date | Charity | Scotwest Member |
| 2019 | RAMH Recovery Across Mental Health | Catherine Graham |
Scotwest Directors Charity Awards Rules
The Scotwest Director's Charity Draw is open to all members with the exception of members of the Board of Directors and those members identified as being in default and disengaged from the credit union at the time of the draw.
The winning Member will be given 14 days to nominate a registered charity to be considered by the Scotwest Board.
In the event that the winning Member does not wish to participate, or does not respond within 14 days, their name will be removed from the list of Members and the draw will take place again.
In the event the nominated charity is deemed unsuitable by the Board the selected Member will be notified and asked for an alternative nomination.
The Scotwest Board's decision on the granting of the Award is final with the Chair of the Board making the final decision if necessary.
While winning Members are encouraged to take part in any promotional or press events surrounding the award, it is not compulsory.