Christmas with Scotwest
Whether you are looking for a fair loan to help with this festive season, or to get saving for next year, read on to find out how Scotwest can help make your festive season picture perfect!
Need some help now?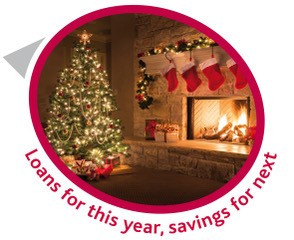 Scotwest is free to join and if you are joining Scotwest to borrow from us for the festive period, the quickest and easiest way to apply is online – simply fill in our Online Membership Form, letting us know how much you would like to borrow and we'll do the rest.
If you are already a Scotwest Member you can apply for a loan any time using online banking. If you are not registered for online banking you can give us a call on 0141 227 2390 between 8.30am-5pm Monday to Thursday and 8.30am – 3.45pm on Fridays.
Unsecured Loan Rates
| | | | |
| --- | --- | --- | --- |
| From | To | Representative APR | Interest Rate |
| up to | £500 | 26.8% | 24.0% |
| £501 | £4,999 | 12.7% | 12.0% |
| £5,000 | £9,999 | 7.5% | 7.25% |
| £10,000 | £30,000 | 6.5% | 6.31% |
Example – With a £500 loan borrowed over 3 months you will only pay £20 in interest!
There are no hidden fees or charges.
Every application for a loan will be carefully considered by our Loans Team; Lending decisions are based on your income and expenditure and your ability to repay the loan.
At Scotwest, we help members who are struggling with their Scotwest loans. If you are experiencing debt problems, make sure that you get help straight away by speaking to your lender in the first instance before it spirals out of control.
Unsecured Loan Terms and Conditions
Find out about our other loan options here.
Get Organised for Next Year
With our Christmas Savings Account you spread the cost of the festive season throughout the year by setting up regular savings via Direct Debit or through your payroll. Your savings will be paid out in November in time for Christmas shopping, festive treats and fun nights out.
If you are an existing Scotwest Member you can open an account via online banking or give us a call on 0141 227 2390.
If you are new to Scotwest, you can join online any time here and select Christmas Savings Account from our list of savings accounts to open.
Your savings are covered by the Financial Services Compensation Scheme and what's more you may receive a dividend prior to the automatic payout each November.
Christmas Savings Account Terms and Conditions
Find out about our other savings accounts here.