Community Awards Winners
| | | |
| --- | --- | --- |
| January 2021 Community Awards | The Coming Home Centre, Coatbridge Stay Connected | Find out more |
| September 2020 Community Awards | Wellington Allotment Gardens Association, Indepen-dance, The Preshal Trust | Find out more |
| June 2020 Community Awards | Bothwell and Uddingston Community Action Group, Belville Community Garden Trust and Glasgow East Women's Aid | Find out more |
| March 2020 Community Awards | Sporting Pathways CIC and Hamiltonhill Family Learning Centre | Find out more |
| December 2019 Community Awards | Evolution Skatepark | Find out more |
Nominate an organisation or charity working in your community here.
January 2021 Awards
Based in Glasgow, The Coming Home Centre has supported armed forces veterans for nearly 10 years. Originally assisting with the transition from military to civilian life it has grown into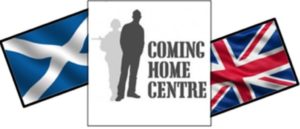 a diverse, drop in and support centre offering all manner of help. The temporary closure of our Centre caused by Covid 19 lockdown has seen the group develop a comprehensive food, fuel and support outreach programme. The Scotwest Community Award will pay for ipads and Zoom licences to allow a virtual drop in centre network established to combat the negative mental health effects caused by loneliness and isolation. They were nominated by Scotwest Member Alan Deans who said "Being an Armed Forces Veteran myself, I am only too aware of how fellow veterans need to communicate with other veterans, especially in today's sad circumstances. These much needed resources will help reduce veterans social isolation and improve not only their digital skills but their quality of life!"
Coatbridge Stay Connected serves the elderly, vulnerable and isolated in their community. The |Award will fund their winter coats project where warm coats and jackets are provided for those in need and new takeaway lunch club to ensure that no one in the community goes hungry. Michelle McKenna, the Scotwest Member who nominated the group said "Throughout the pandemic I have witnessed first hand the hard work and dedication of their volunteers, going above and beyond to support the local community. This support is vital at a time when so many are experiencing financial difficulties. I hope the award will be a fantastic boost at a time when donations are low."
Liz Quate of Coatbridge Stay Connected agreed saying "This will go a long way in the support of many families we are currently helping on a daily basis. We are grateful to Michelle for nominating us."
September 2020 Awards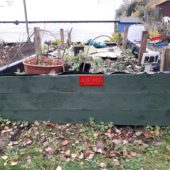 Scotwest Member Alison Duncan nominated Wellington Allotment Gardens Association for the purchase of raised beds in their allotment space in Greenock. An allotment space has been situated on the site for 100 years and it offers growing space to local people who have no other outside space. The new beds will give people on the waiting list a chance to grow their own vegetables. Mary McDonald, the Treasurer said "Many, many thanks for choosing us. We will make great use of the new beds and cannot wait to show them off full of crops!"
Indepen-dance are an award-winning Glasgow based inclusive dance group working across Scotland. Karen Anderson nominated them for an award to fund their new online dance and movement classes for disabled children, young people and adults.
Karen, the group's Artistic Director said, "We are delighted our application was successful! The Award will allow classes to take place that would have been impossible given the restrictions imposed by the Covid-19 virus such as chair based yoga, Family Disco and Touch Trust classes for adults with profound disabilities."
Nominated by Scotwest Member Alan Deans, The Preshal Trust's aim is to make a difference to the lives of people in the south west of Glasgow suffering from the effects of social exclusion.
The Award will purchase the cameras and printers in order to run a range of "Photovoice" activities which support a client group ranging from infants, families, young people and ex-offenders with addiction problems and mental health issues and the parents and carers who support them.
Scotwest Member Alan said "The Preshal Trust is the fact that is does what it says on the tin. They make a difference to the lives of people within South West Glasgow by providing holistic, locally based care and support to individuals and their families suffering from the effects of social exclusion and more importantly during COVID the provision of hot meals and supplies for those that need it!"
Alan Nicholson, CEO said "We really appreciate the support of our work and this most kind donation. We have supplied nearly 7000 hot meals and over 4000 food parcels already and the need does not seem to be dissipating. There are many who are still reliant on the support and care we are able to offer and our staff are working hard to ensure we can meet this need."
June 2020 Awards
Three organisations providing vital support to vulnerable members of their communities during the Covid-19 crisis have been awarded Scotwest Community Awards of £1,000 each to help them continue their work during these difficult times.
Bothwell and Uddingston Community Action Group, a self funded group of volunteers delivering 200 meals three times a day to people in their local areas in Lanarkshire were nominated by Christina Jones and Kate Mulholland. Christina said, "They have brought the whole community together by encouraging everyone to help each other in any way they can." Kate added, "They have involved so many businesses in the area and their delivery of chocolate eggs at Easter time brought joy to thousands of locals." Alan, who with a team of volunteers helps run the group said "We have been overwhelmed with thdfsfe support shown by the community since the group was set up and we will continue to be there to help our vulnerable neighbours long term."
Belville Community Garden Trust are distributing isolation food boxes and stocking community fridges across Inverclyde during the Covid-19 crisis. They were nominated by Louise McShane and Kath McFarlane. Louise, "As a Social Care worker I have sent many service users to this resource for assistance. They are providing a lifeline to those in need." Kath said, "The Trust has really become an amazing resource in our community."
Glasgow East Women's Aid supports women and families who are experiencing Domestic Abuse. They were nominated by Patricia Currie who said "The staff at GEWA have adapted quickly during the Covid-19 crisis to ensure that no woman is left without help , not only by supplying essential items and food but offering counselling and other support." Maureen Bettley of GEWA said "This award will buy food for the most needy families suffering from limited resources during lockdown to ensure they eat safely and healthily."
March 2020 Awards
We are delighted to announce two recipients of a Scotwest Community Award.
Based in Irvine, Sporting Pathways CIC provides socially inclusive and accessible sport and fitness sessions to encourage young people in the area to be more physically active.The Scotwest Community Award will pay for a new website to help promote the service and also pay for two young people to undertake a sports training qualification. Graham Hunter, the organiser said "This award is a much needed boost for us. The new website has become even more of a necessity due to the current situation with COVID-19 and it will enhance our ability to promote and keep our services users connected. We are also very excited that the award will pay for two of our volunteers to gain recognised qualifications that will no doubt increase their confidence and ability as well as again increase our capability to deliver a quality service."
Hamiltonill Family Learning Centre has provided support to families with children aged up to 6 years in the Glasgow's Possilpark area for 50 years. There are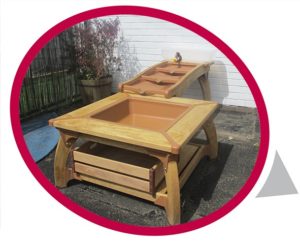 currently over 100 children registered with the service and the Scotwest Community Award will purchase much needed outdoor play equipment for the 0-3 years age group.
Headteacher France Stokes said "The look of delight on the children's faces when the Water Tray play equipment arrived was a joy. The children have access to a really nice out door area which the staff have been developing over the past year and is important for our children's Heath and Wellbeing Outdoor Learning particularly for those who live in high rise/tenement houses and have limited access to an outdoor environment..  The water tray will make this an even more exciting space to play for years to come, and the Centre would never have been able to afford it without the help of Scotwest and its Members.."
December 2019 Awards
We are delighted to announce the first recipient of the Scotwest Community Awards is Evolution Skatepark in Stevenston.
They aim to advance the health of the residents of North Ayrshire through sporting facilities and activities and encourage residents in the area to participate in various sporting and physical activity. In addition they operate a 'food with dignity scheme' over holiday periods where they provide snacks, fruit, water, crisps to children who come to the park offering a valuable provision to our community to ensure there is a nearby safe space and welcoming environment for young people to meet, socialise, participate in sport and other health
and well-being events.
The Award will fund the renovation of the indoor facilities at the site allowing family events which would normally be cancelled to take place in bad weather .
We look forward to updating you on the work carried out as soon as possible.

The Scotwest Community Awards is funded through the Scotwest Lottery.