After being nominated by Scotwest Credit Union member Alex Anderson, Ayr Housing Aid Centre has been awarded £400 by Scotwest Credit Union as part of our 25th Anniversary Community Awards.
Suzanne Slavin of the Centre said: "It is very satisfying to be recognised for the work we do in the community and awards like this allow us to continue to expand the services we offer. The funds from Scotwest will assist us in supporting our most vulnerable service users who are at risk of becoming homeless and those in crisis."
Ayr Housing Aid Centre provide Information, Advice, Tenure Sustainment And First Home Services to those who are threatened with homelessness or in housing need in the South Ayrshire area. They have an Education & Engagement Department who engage with school age children to encourage understanding of causes of homelessness and impart budgeting skills.
CEO Kenny MacLeod said "I would like to thank our member Alex Anderson for taking the time to nominate Ayr Housing Aid Centre for a Scotwest Community Award. We are delighted to be able to support such an important service making a real difference to their local community."
Find out more about the work done by Ayr Housing Aid Centre here and you can follow them on Facebook for all the latest news.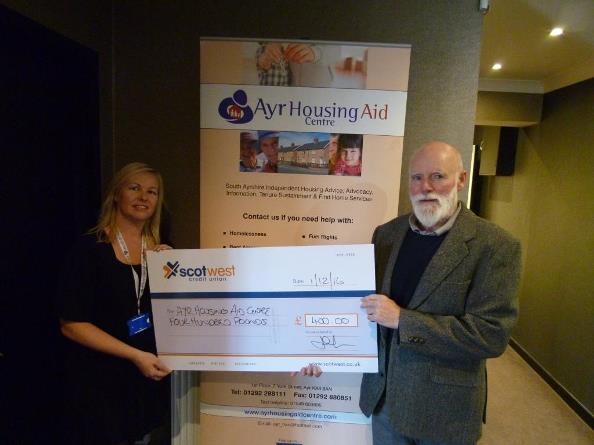 Suzanne Slavin of Ayr Housing Aid Centre receiving the award with Scotwest Member Alex Anderson